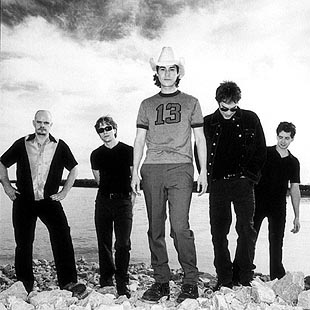 REVIEW OF THE MOIST SHOW DEC/4/99

Well lady's and gents this show was amazing, marked my 10th time seeing Moist, they started out the night with tangerine there was a little suprise at the start of the show but i don't want to spoil everyones fun. An interesting point to this moist show is that i wasn't killed since being front and center in the pit. All three bands decided to have no crowd surfing, after the incident where a girl recently broke her neck crowd surfing. They played stuff from silver, like push, machine punch through, and ofcourse silver, then they played leave it alone, gasloine, opheila, and ressurection from creature, i have to give out one goodie and don't read on if you don't want the fun to be spoilt, they ofcourse played underground, and breathe and comes and goes, but the highlight of the night was dave playing the acustic guitar during fish or was it the amusment i get everytime david flubs on his lyrics Jeff and kevin were in hysterics at some points in the songs, espeacially machine punch through, but no, dave playing the acustic was great.. I would have had pix of that being posted but...sadly the ones with dave playing the guitar arn't going to turn out, me being the idiot i am exposed my film, thinking it was rewond, i was unexperienced with the camera it was not my own. Minus that downer it was a very pleasurable concert, they managed to keep the crowd a roaring no matter what album they played from, yep those boys who pumped it out to us in 94 live, still know how to really ripp it up, i am miss nix just telling ya my thoughts, not yours on this wonderous evening.

* NOTE THE PIX WERE NOT EXPOSED I GUESS IT WAS DARK ENOUGH THAT THE FILM DIDN'T GET RECKED*

Some New Tour Dates as well as UNDERGROUND IS RELESAED!! Its on rotation on the natiosn music station MUCH MUSIC so request it @ ondemand@muchmusic.com.Moists next single is anounced to be UNDERGROUND and will be shot this weekend Sept 4th, congrats to all the ppl in the TO area who have had the chance to participate in the making of UNDERGROUND, lets make sure we get that video hitting # 1 speak of the devil...BREATHE LADIES AND GENTLEMEN HAS HIT # 1 this week sept 3rd on the muchmusic countdown! Moist is featured for the month of July in Chart Magazine. As most of you probably already know moist has released thier new album Mercedes Five and Dime with the new single breathe. This song will also be included in the film "Stir of Echoes" (Sept. 99 release) starring Kevin Bacon and will be included on the Nettwerk soundtrack for the film (Aug 99 release). The video, directed by Phil Harder (Esthero, The Gap ads) is currently being edited. There will be two versions for breathe one including footage from the film for release in August. Moist is doing all 1999 edgefests dates. Also Moist will be doing a some instores around Cananda to promote thier album Mercedes Five and Dime, to check out dates go to Jeff's page www.moist.ca below ya you can read up on the making and whats to become of MFD.
live love learn...miss nix

HOME

Produced by David Leonard (Barenaked Ladies,
Wide Mouth Mason), "Mercedes Five And
Dime" is a more collective and organic album
than Moist's previous outings. The members of
Moist have grown individually and collectively
as songwriters. In the past members would
bring in riffs and "we'd just jam on them for a
while". For this record, they all brought in
songs that were closer to being completed which
allowed the band to experiment more with the
arrangements and the sounds in the studio -
you can here the band having more fun with the
music. For "Mercedes Five And Dime", the
band opted to use more acoustic guitars,
percussion instruments, synthesizers, loops
and "bells and whistles". The results are the
instantly catchy first single "Breathe", the
thematic "Mike Hammer" and the eclectic
"Fish", "Mandolin" and "Pleasing Falsetto".